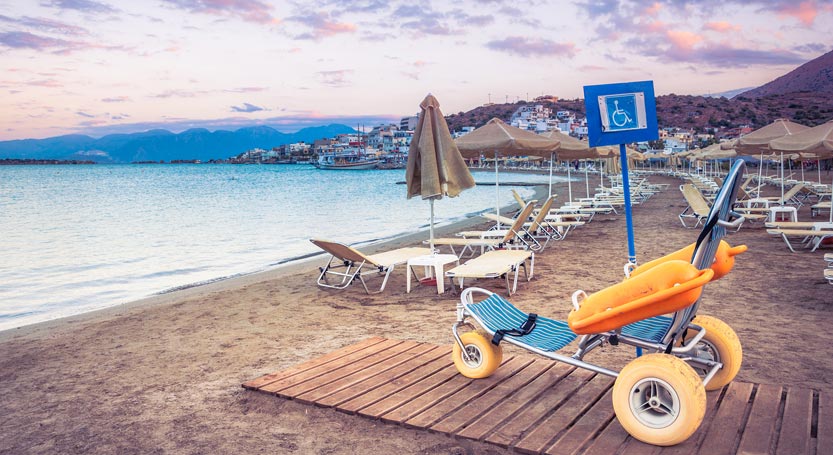 Disabled Travelers in Turkey
All Accessible Disabled Holiday resorts with accessible accommodation suitable for disabled people in Turkey
Turkey is one of the holiday destinations that has something for everyone. For the beach addict, there are the warm waters of the Aegean and Mediterranean Sea and miles of sparkling coastline. A holiday in Turkey can be challenging for the disabled traveler, but armed with some prior knowledge you can be selective about where to go.
Istanbul is full of fascinating history, beautiful architecture and a surprisingly modern social scene, but many tourists are put off by the limited accessibility. However, many museums are now designed for all visitors.
The equally fascinating Basilica Cistern, a cave-like underground structure perfect for hot days, has a wheelchair lift at the back.
The ever-popular river cruises on the Bosphorus offer seats accessible to people with disabilities, while Hagia Sophia Temple and the Blue Mosque are within a kilometer of each other, making it easy to visit the city's main attractions together. Accessible hotels are available, but may need to be double checked on the correct slopes and suitable rooms. While the sidewalks are uneven and many of the buildings are pre-modern, things are getting better and this intriguing city is definitely worth the extra effort.
Elsewhere in the country, the Turkish Riviera on the Mediterranean is known for its sparkling coastline and offers some top facilities in its hotels and resorts. The Gulf of Antalya has beautiful pools and beautiful mountain scenery, and Antalya itself has benefited from an improved tram system. Tasteful smaller resorts like Side, Alanya, Belek, Kemer and Lara are also equipped with flat walkways and beachfront accommodation, unlike the older towns, and have become popular with disabled travelers.
While the main resorts, such as Bodrum and Marmaris, on the Aegean coast may be better in terms of accessibility, the crowds and busy nightlife don't appeal to everyone. For a calmer Turkish experience, try the Bozborun Peninsula near Datca, tucked away among wooded hills.
An enjoyable holiday in Turkey, as everywhere, is mainly a matter of thorough research. In general, the southwest coast and many of the Mediterranean and Aegean resorts have been duly modernized and cater for all needs. Larger cities like Istanbul have decent, modern airports with good transfers and a number of updated metro and ferry systems.
---
Other Blogs
5 Useful Travel Apps for disabled people
Best accessible hotels in Turkey!
10 wheelchair accessible hotels in Antalya
Flight for wheelchair travellers
10 tips when Renting an Accessible Car
Daily transportation for Disabled
Accessibility Features for Hotel Accommodation
Travel Suggestion for Disabled Adventurers
Top 4 Mobility Equipment to rent for your holiday
How to make cities accessible?