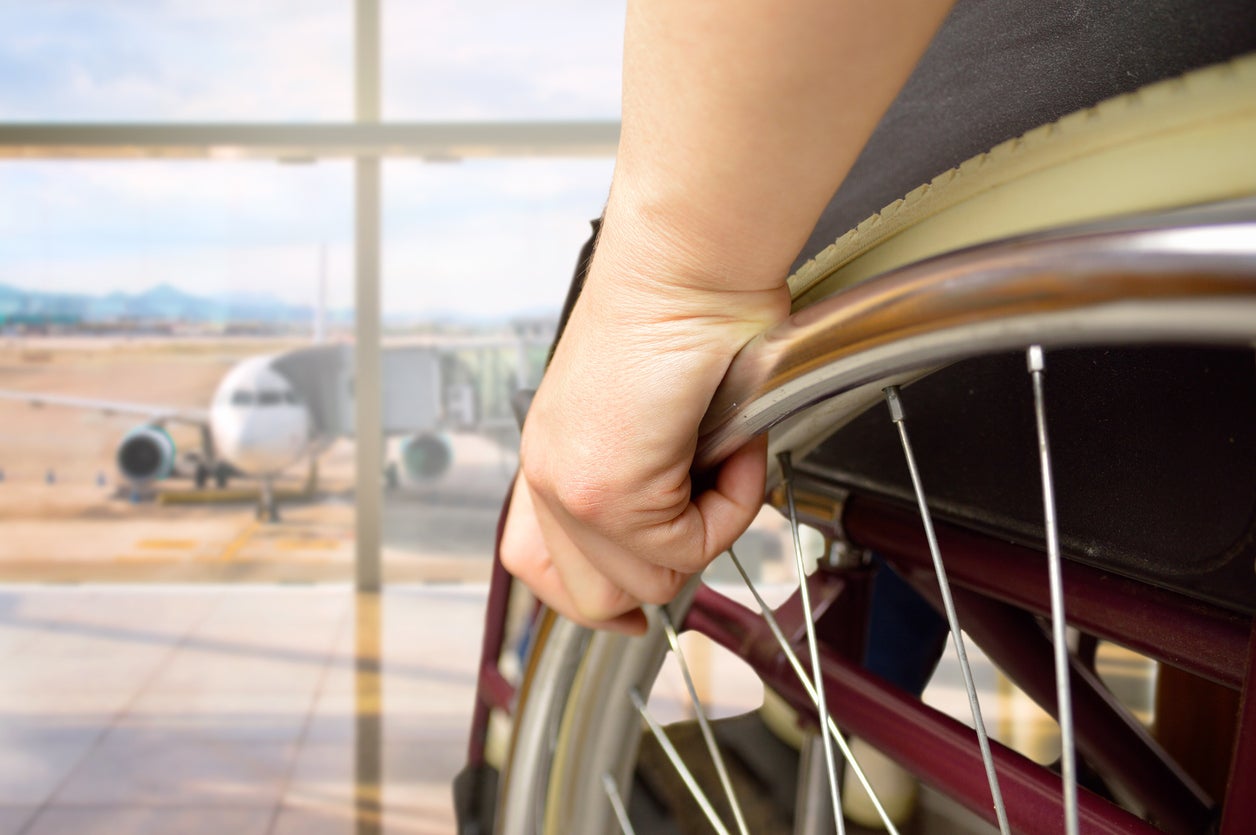 Flight for wheelchair travellers
A complete flight travel and holiday guide for travelling with manual and electric wheelchair
Can I take my wheelchair on the plane?
Yes, you can travel with your wheelchair while operating an airplane. However, there are some important things to keep in mind, including the size and type of wheelchair. There is limited space on board larger aircraft for a single standard wheelchair or transport seat. Power wheelchairs and wheelchairs with a sturdy frame should be stored underneath - also gate controlled. Electric chairs that use a sealed battery - lead acid or gel, which is most - will have no problem.
General tips for booking your flight
* Book an aisle seat to the front of the plane.
* If you are traveling with an electric wheelchair, please have the brand / model / type of battery available when calling the airline.
* Book direct flights if possible. This avoids the hassle of getting on and off an airplane twice.
* Think carefully about how you will sit in the chair. Pack transfer belts or a transfer board.
* Take a picture of your equipment in case of conflict due to damage incurred in transit.
Flight with batteries
Sealed Lead Acid (Gel): Your power chair probably has these types of batteries. The battery can remain in place during transport if it is firmly attached to your mobility device. The battery housing provides protection against damage and the terminals are protected against short circuit. The battery cables should only be left connected if the device is protected against accidental activation.
Lithium-ion: Less common are lithium-ion batteries. These batteries must be removed from the mobility device and may only be taken as hand luggage. The passenger must inform the aircraft crew of the location of the battery.
Traveling internationally requires further research based on the country you are traveling to and the airline you are traveling with.
What you can expect for your flight
Call your airline and airports the day before your flight to verify your reservation, your accessibility options, and any other concerns. You can check in online, via an app or at the airport. Most airlines recommend arriving at least 1-2 hours before your flight, but wheelchair users may want to spend even more time before their flight clearing safety, checking their wheelchair or other equipment, and making their way through the airport.
At security, some airports require you to check your power chair or scooter before clearing the security checkpoints. If this is the case, you will be given a terminal wheelchair - and probably an attendant - to guide you through the airport. Make sure to remove your personal belongings, including bags and backpacks, from your equipment. Security will help you through the procedure, so don't be afraid to ask questions or ask for help.
When you reach your gate, talk to the airline representative at the terminal about pre-boarding. As soon as boarding begins and you board the plane, you must be transferred to an aisle wheelchair. Passenger planes have a minimum aisle width of 15 inches. Before leaving your personal wheelchair, remove or protect sensitive electronics, such as an electric wheelchair joystick, and remove any modifications that may break during transportation, such as a headrest. If you have an electric wheelchair, put it in freewheel mode. Finally, bring your pillow and bring it on board to use during your flight.
Toilets in flight
During the flight, your bathroom options may be limited. Some airlines may be able to transport you to the bathroom with an aisle wheelchair. That's why it's important to book a seat by the aisle if possible. Some wheelchair users have used adult catheters or incontinence products to avoid the problem of using the airplane bathroom in flight.
For shorter flights, you may be able to avoid needing the facilities, especially if you use a handicap accessible bathroom at the airport before boarding your flight and limit your fluid intake until you land. Travel can cause delays, dehydration can cause other problems. So be careful if you just skip the fluids. This is another good question for your airline before you book, ask about the in-flight accessibility options.
Arrival at your destination
Once you arrive at your destination, wait until the rest of the passengers have left the plane. With the help of the flight attendants, you will be escorted from the aircraft in their designated wheelchair. In general, you can expect your personal wheelchair to be returned to you at the baggage claim.

Reminders and additional tips:
If you have a choice between a direct flight or connecting flights, consider opting for the direct flight. Even if it costs a little extra, it can be worth avoiding the hassle of getting off and on twice. Plus the wear and tear of transferring your wheelchair from plane to plane.
Always call the airline before booking your flight to inquire about their accessibility options and how they can meet your individual boarding and disembarking and in-flight needs.
Contact the airports (both departing and arriving airports) to ask about wheelchair safety procedures and other possible accessibility issues.
If your wheelchair or accessibility equipment is damaged during your flight, please contact your airline.
Good flight and travel!
---
Other Blogs
10 tips when Renting an Accessible Car
Accessibility Features for Hotel Accommodation
Top 4 Mobility Equipment to rent for your holiday
Travel Suggestion for Disabled Adventurers
5 Useful Travel Apps for disabled people
10 wheelchair accessible hotels in Antalya
How to make cities accessible?
Best accessible hotels in Turkey!
Disabled Travelers in Turkey
Daily transportation for Disabled