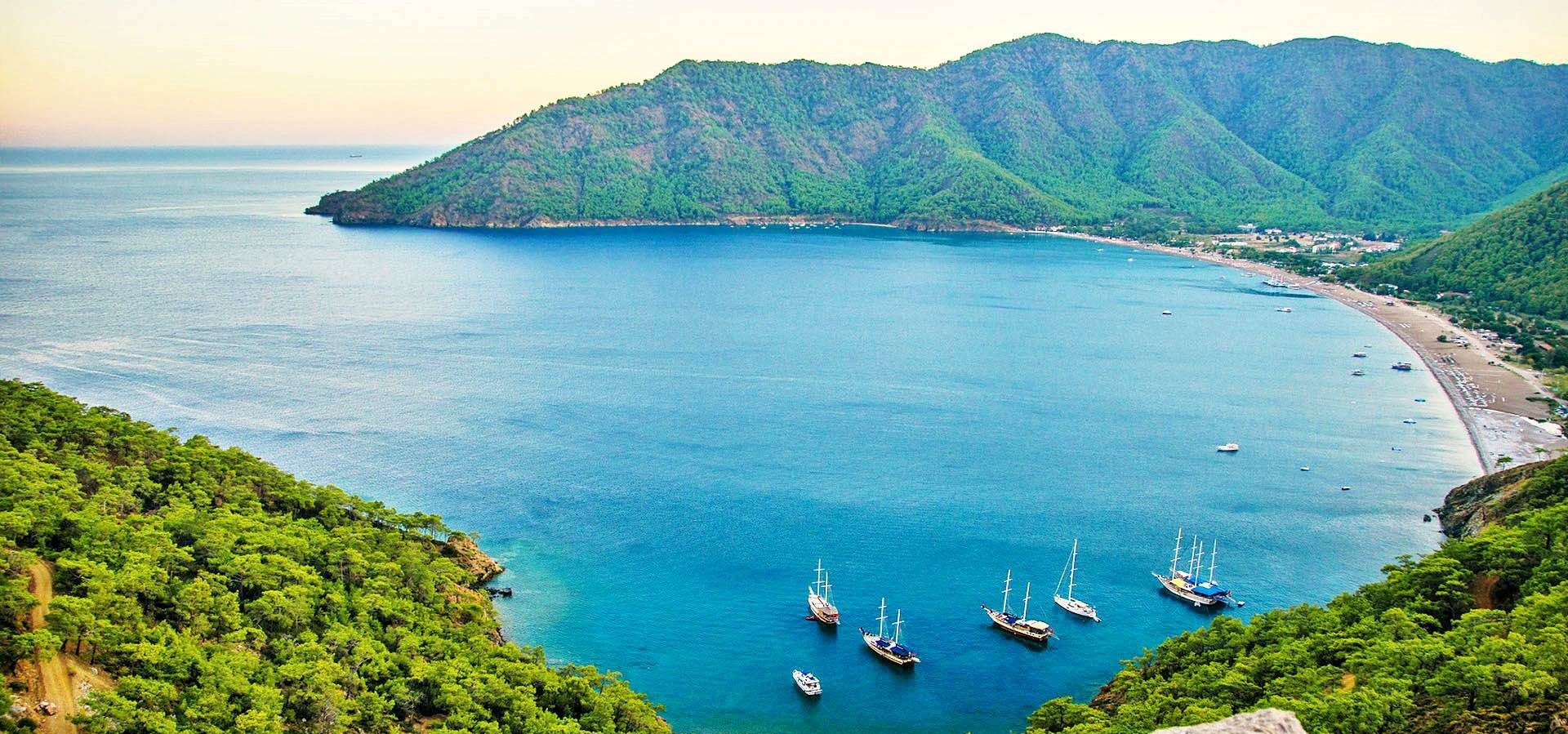 Wheelchair Accessible Holiday Kemer
Wheelchair accessible hotel rooms Kemer, wheelchair accessible excursions and activities for disabled as Visually Impaired, Hearing Impaired, Speech Impaired or wheelchair user in Kemer
Kemer, located in the east of Antalya, is 50 km from Antalya Airport. '' Kemer'', where is one of the most important tourism centers in Turkey, is surrounded by Beydağları. Local and foreign tourists from all over the world come to Kemer, where the forest and the sea offer a great visual feast. In Kemer, where there are countless hotel options, suitable places to visit for wheelchair access are limited. However, the city center is suitable for access. Kemer is the place where nightlife has peaked in Antalya. Aura and Inferno are the most famous discos and they are designed according the needs of wheelchair user. You can enjoy the sea, sand, sun and forest to the full by staying in a hotel in Kemer. However, although there are not many places to see, the places suitable for wheelchair access are as follows.
Moonlight (Ayışığı Parkı) Park: It is a park with a separate beach in Kemer. It is one of the landmarks of Kemer. There is a wooden walking path for wheelchairs on the beach. However, to access the sea, you should take your beach wheelchair with you, because this is not available in the park. However, there is no special place for wheelchair users to change their clothes and take a shower. You should pay for the entrance fee for the park. This beach is one of the most beautiful beaches to swim in Kemer. The park is generally a disabled-friendly park.
Folklorik Yörük Park: It is a park where you can see the Central Asian Turkish Culture and Traditions. It is not a park suitable for 100% wheelchair access. It is useful to have an assistant with you during your visit. There are small stairs in a few places, but these stairs are not very annoying. Here you can see traditional Turkish food, clothes, kitchenware and rural lifestyle. It will be an interesting experience and a different activity for wheelchair users.
DinoPark: In this park located in Göynük, there are models of extinct dinosaurs that are produced in one-to-one dimensions. These moving models make the natural sounds of the dinosaurs. You can visit these dinosaurs within touch distance. The park is wheelchair accessible. Apart from dinosaurs, there are many activities in the park. It is a nice park for children using wheelchairs to have fun.
Ulupınar : It is located about 15 km from Kemer. It is famous with its ice-cold water and restaurants where you can go fishing, eat at authentic tables above the river and have fun in nature. There are many different restaurants here, but not all are suitable for wheelchair access. The most suitable restaurants are '' Şelale '' restaurant and '' Botanik '' restaurant. Half of the travellers who come to Antalya on their holiday do not go back to their country without eating at the tables above the river and enjoy the nature.
Phaselis Ancient City: It is in the first place to visit in Kemer. For wheelchair users, it is useful to have an assistant with them when visiting the ancient city. Apart from the ancient theater, the remaining places can be visited without any trouble, however, it may be a little difficult to move in a wheelchair on the historic stone road. Apart from that, it has a magnificent beach. When you go here, it is useful to have a beach wheelchair with you. You should pay an entrance fee for this natural park. It is generally suitable for wheelchair access. You will definitely not regret going here and spending time here.
Olympos Ancient City: Olympos is located 20 km from Kemer and is famous for its ancient city, virgin beaches and tree houses. The boutique hotels here are not suitable for disabled access. Hippies from all over the world come here and have fun. The ancient city is on the sea shore. Therefore, you will be able to find history, nature and sun alltogether at the same place. Therefore, it is useful to stay in a hotel in Kemer and come here daily. You will be able to reach a point in the ancient city with your wheelchair. However, you will need a beach wheelchair to avoid getting stuck on the stone beach later. Just like Phaselis, you will never want to leave here.
Göynük Canyon: It is on the Lykia road, one of the top 10 hiking trails in the world. It has a breathtaking natural beauty. You can move in a wheelchair on your own until half the walking track, but in the other half you will definitely need someone to help you. Even though the walking track is a bit difficult due to the ramp, you will say "I am lucky to come and see. " after the view you encounter. The only negative point of this place is that the toilet of the disabled is only at the beginning of the track. The course takes approximately 1 hour uphill and 1 hour downhill.
Tahtali Cable Car: You will be able to enjoy to climb to Beydağlar by cable car which is located in the Kemer region. All Antalya will be under your feet. You will climb to approximately 2365 meters. The longest cable car track in Europe is located here. It is a fully wheelchair accessible activity. It takes approximately 10 minutes to the peak and takes about 10 minutes to descend. You can observe the magnificent forest and wildlife by passing through the clouds, gliding over the forests and You can see the whole Antalya and coastline at the top of the mountains. Adventure-loving wheelchair users can also do paragliding here. If you want, you can watch the sunrise and sunset from here.
Tekirova Ecological Nature Park: In the Ecological Nature Park, which is a few kilometers away from Kemer, there are 3500 species of poisonous, non-venomous snakes, anacondas, tens thousands of frogs, lizards, bird varieties, turtle species, and 360,000 roots of exotic plants and tree species, brought from different parts of the world. The park is wheelchair accessible. The private guide of the park gives you detailed information about the animals and flora of the plant during your trip.
Dolphinarium Kemer: Dophinarium in the center of Kemer gives you the opportunity to swim with dolpins. You can watch the dophine shows in the dolphinarium, which is suitable for wheelchair access or you can have a chance to swim with them.
Wheelchair Accessible Hotels in Kemer:
- Rixos Tekirova (Hotel is located in Tekirova and there is a pool lift for disabled)
- Güral Premier Tekirova (Hotel is located in Tekirova and there is a pool lift for disabled)
- Amara Dolce Vita (Hotel is located in Tekirova and there is a pool lift for disabled)
- Mirada Del Mar (The hotel is located in Göynük and there is a pool lift for disabled)
- Paloma Foresta Resort (It is located in Hotel Beldibi and there is no pool lift for disabled but common areas are accessible)
- Akka Antedon Hotel (It is located in Hotel Beldibi and there is no pool lift for disabled but common areas are accessible)
- Barut Hotel Kemer (Located in the center of Kemer. There is no pool lift for disabled but common areas are accessible)
---