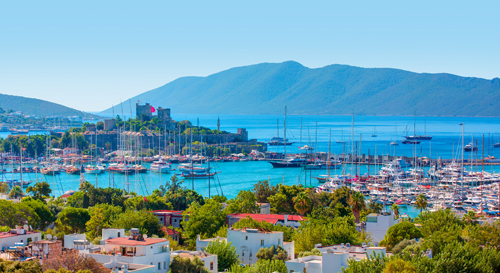 Wheelchair Accessible Holiday Bodrum
Wheelchair accessible hotel rooms Bodrum, wheelchair accessible excursions and activities for disabled as Visually Impaired, Hearing Impaired, Speech Impaired or wheelchair user in Bodrum
Bodrum, located in the Aegean Sea coast, with its resorts, ancient ruins and nightlife, is one of the most popular holiday destinations of Turkey. Vacationers from Great Britain and Scandinavian countries usually enjoy staying in Bodrum and spending their holidays here.
In ancient times, Bodrum was called "Halikarnassos". This is also the name of a world-famous disco in the city center of Bodrum. This disco is a wheelchair accessible disco. The symbol of Bodrum is St. Peter's Castle. It is also known as Bodrum Castle. Bodrum Castle can be visited partully by wheelchair users. Unfortunately, access to all places in the castle is not possible due to the architecture of the castle. Inside the castle, there is the world's second largest underwater archeology museum, which must be visited. The museum is accessible for wheelchair users. But, we do not recommend you to visit the Bodrum castle and the Underwater Archeology museum alone. Since there are barriers in some parts, it will be more useful to visit with someone who will accompagne you.
'' Mausoleum '', one of the seven wonders of the world, was built in the city of Halikarnassos. Mausoleum marble stones, destroyed due to earthquakes and invasions, were used in the construction of Bodrum Castle. The Christian knights built the castle in the 15th century and the construction was completed in about a hundred years. Another important symbol of Bodrum is windmills.
Apart from that, there are many hotels and villas in Bodrum peninsula. The vacationers who visit here usually, they love enjoying the magnificent beaches of Bodrum. It is not possible for wheelchair users to leave their hotels and go to the city center by public transportation. Those who will take a taxi are not very lucky also, because it is not available the ramps or lifts suitable for wheelchair in the taxis.
Not only in Turkey, Bodrum is one of the leading tourist destination in Europe. But it is also one of the disadvantageous destinations for wheelchair user. Some of the hotels and beaches are accessible but not all. There is a lot of hill and the streets are very sloping. In urban transportation, MobilityTurkey's transfer vehicles allow wheelchair users to travel comfortably both in airport transfers and in city transportation with an additional cost. In addition, in order to facilitate the vacations of the disabled, MobilityTurkey supplies all kinds of products of disabled people that they may need during their holidays in Bodrum. (Scooters for disabled, Lift, Electric Wheelchair, Bathroom equipment, electric bed, shower chairs….)
Wheelchair Accessible Hotels in Side:
Pool lift is available for disabled:
- La Blanche Island Bodrum (Located in Guvercinlik )
- La Blanche Resort Bodrum (Located in Turgutreis)
- Sundance Resort Bodrum (Located in Turgutreis)
- Kairaba Bodrum Princess (Located in Turgutreis)
- Kairaba Bodrum Princess (Located in Akyarlar)
No pool lift for disabled, but the pool and public area is accessible:
- Bodrum Grand Yazıcı Bodrum (Located Bodrum City Center)
- The Kempinski The Dom Bodrum (Located in Yaliçiftlik)
---