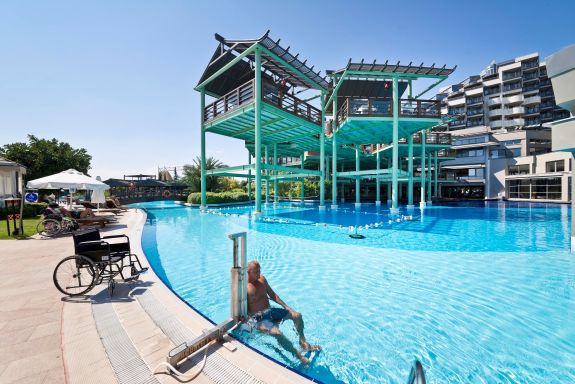 10 wheelchair accessible hotels in Antalya
Planning a holiday to Antalya? Check out at these 10 wheelchair accessible hotels in Turkey,
Antalya is easily accessible by all forms of transportation. Antalya is accessible from all parts of Turkey via the highways and the international airport offers easy access for domestic and foreign visitors. Are you planning to go to Antalya and find an accessible hotel? we made a list for you
1- Baia Lara Hotel
5 disabled rooms designed to ISO and DSG standards are located on the 1st floor (reception floor) of our facility. Our rooms equipped with emergency buttons include a specially designed entrance, bathroom, balcony door width and devices that facilitate movement in the bathroom. The size of the rooms is 35 m2. They have a terrace and laminate floors. These rooms have country views. They can accommodate 1 to 3 (2 + 1 or 3) persons.
2- Lara Barut Collection, Lara
This beachfront hotel in Antalya features 8 à la carte restaurants and a spa with a Turkish bath. Just 10 km from Antalya Airport, it offers kids club facilities, indoor and outdoor pools with slides. Guests can enjoy the adult beaches.
The large rooms of Lara Barut Collection have spacious balconies with tables and chairs. Each room has a seating area with an LCD TV, DVD player (on request) and a minibar. The hotel has a service where the beds are prepared for the night to provide guests with optimal comfort.
3- Miracle Resort Hotel, Lara
Located right on the water, this hotel features an outdoor pool, an indoor pool and a private beach with free sun loungers and umbrellas. A Turkish bath, sauna and Wi-Fi in public areas are free.
The bathroom in this specially categorized room category has a roll-in shower. It is located on the ground floor of the hotel. The floor of the rooms is covered with laminate floors.
4- Gloria Serenity Resort, Belek;
Gloria Serenity Resort features a private Mediterranean beach and a Serenity Spa with a wide range of luxury treatments. There are 10 golf courses within a 5 minute drive from the hotel.
Rooms have a private balcony with garden and sea views, while superior rooms have a private hot tub. All rooms have an LCD TV with satellite channels and free Wi-Fi.
5- Regnum Carya Hotel, Belek;
Regnum Carya Golf & SPA Resort offers indoor and outdoor pools with slides, a luxury spa center with massage treatments, a sauna and a steam bath, and a private sandy beach. The hotel is located on the Carya golf course.
The spacious units at Regnum Carya have a private balcony or terrace, many of which overlook the Mediterranean Sea. They all have an LCD TV with satellite channels. Some suites have a spa bath.
6- Rixos Premium Belek
All rooms at Rixos Premium Belek offer charming views of the Mediterranean Sea and the pistachio forest. They are elegantly decorated with modern furniture. Each room is equipped with a flat-screen TV with satellite channels. All rooms at Rixos Premium Belek have a private balcony, and some also have a terrace with pool and nature views.
7- Limak Lara Deluxe Hotel, Lara
This luxurious 5-star hotel is located in the coastal town of Lara. It features 4 à la carte restaurants and an extensive spa. All guests receive special benefits such as a free fruit basket and a bottle of wine on arrival, a free ironing service, special offers in the spa and restaurants. The Limak Lara's spa features a Turkish bath, indoor pools and a hot tub. A range of relaxation therapies are also available, including full-body massages, facials and pedicures.
8- Limak Atlantis Deluxe Hotel, Belek
Located on the seafront, Limak Atlantis Deluxe Hotel-2 Children Free up to Age 14 features a sandy beach, 5 swimming pools decorated with palm trees and a spa center with a Turkish bath and sauna facilities. All rooms are air-conditioned and have a furnished balcony.
The modernly decorated rooms at Limak Atlantis come with a minibar and TV. All rooms have sea, garden or pool views. Each room also includes a free bottle of wine and a fruit basket.
9- Calista Luxury Resort, Belek
The all-inclusive 5-star Calista Luxury Resort has its own private Mediterranean beach, surf and sailing school and luxury spa facilities. All units at Calista Luxury Resort have a private balcony or terrace with sea or mountain views. All rooms have satellite TV, free Wi-Fi and a spacious private bathroom.
10- Swandor Topkapi Palace, Lara
Located on Lara Beach in Kundu, this hotel offers indoor and outdoor pools and a hammam. It features free public Wi-Fi and rooms with a minibar and satellite TV. All rooms and suites at Swandor Hotels Resorts Topkapi Palace have been completely renovated and refurbished in April 2019, and feature air conditioning, a safety deposit box, a telephone and a private bathroom with bath and hairdryer. Rooms for disabled guests are also available.
Room entrance door, bathroom door, sink, closet and shower section are designed for disabled guests, we have handicap rooms on the entrance floors, all with garden views. Other features of our disabled rooms are the same as the deluxe rooms.
Mainly features for accessibility room below, ask your hotel what accessibility they have before deciding for a stress free vacation.
* wider entrance and bathroom doorways - outside 80 cm, inside 75 cm. Easy to open?
* medium height light switches and sockets
* lever type door handles
* roll in the shower
* mobile shower chair and / or wall-mounted shower chair
* grab bars in the bathroom
* raised toilet
* lower hanging space in cupboard
* designated parking space for the disabled with priority in the parking lot.
* stairs free access (level or inclined) and / or lift access to the main entrance.
* automatic door opening.
* ground floor / lobby level accessible laundry room.
* lift to accessible accommodation above ground.
* flat or sloping access to public areas
---
Other Blogs
5 Useful Travel Apps for disabled people
How to make cities accessible?
Travel Suggestion for Disabled Adventurers
10 tips when Renting an Accessible Car
Best accessible hotels in Turkey!
Accessibility Features for Hotel Accommodation
Disabled Travelers in Turkey
Flight for wheelchair travellers
Top 4 Mobility Equipment to rent for your holiday
Daily transportation for Disabled