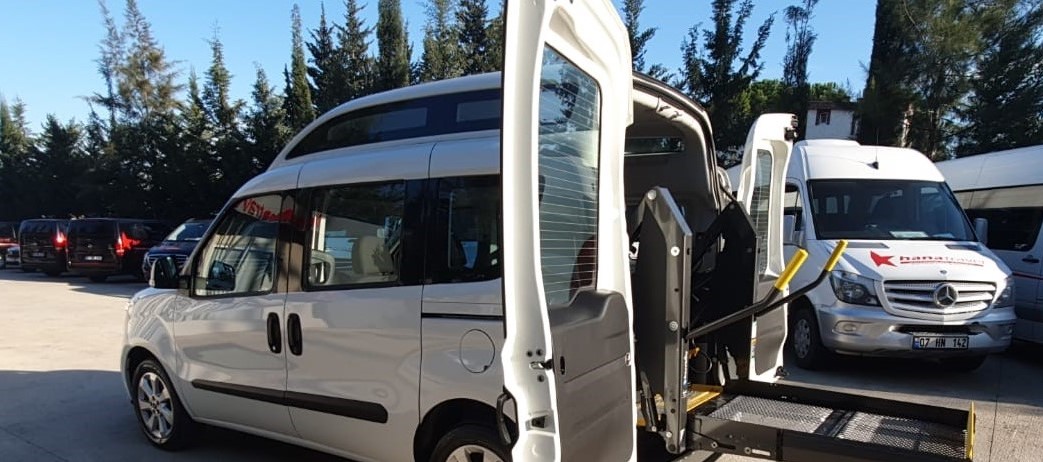 10 tips when Renting an Accessible Car
You want to go abroad for holidays or business and you want to rent an accessible car, choosing the right rental car can be complicated.
You want to go abroad for holidays or business and you want to rent an accessible car, choosing the right rental car can be complicated. There are so many factors to consider and checks to perform. About the 10 most important things to consider when renting an accessible car.
1. Accessibility;
One of the most important things to consider is the accessibility of the car. If you are in a wheelchair, what kind of wheelchair access do you need? Is a ramp or lift essential? Or do you just need enough space to fold away and store a wheelchair in the trunk of the car?
Are you going to drive yourself? Custom vehicles, although uncommon at rental companies, are available with manual brakes and accelerator pedals so you can drive from your wheelchair.
If you're not driving, but want to sit in the front, some cars offer wheelchair access in the front passenger seat. Before choosing a vehicle for this, make sure that both the passenger and driver are comfortable.
If you're looking for a van that you can rent, there are vehicles that are wheelchair accessible through a ramp, usually through the side door, or some with a back door.
If you have a mobility limitation, consider whether you can easily get in and out of the car. Is it at the correct height and is there anything you can hold to help you up and down? Is there enough space to sit unhindered?
2. Size;
Size is an important factor when looking for a rental car. Think how many passengers will travel in the car and how long will one of the trips take? How much space do they each need so they are comfortable, especially when traveling long distances. There should be enough legroom so that everyone can sit comfortably without feeling cramped.
Accessible cars are available in a variety of sizes - from small four-seater vehicles (one wheelchair and three seats) to large coaches.
3. Storage space;
When determining the size of the vehicle, take into account how much storage space you need. Different disabilities have different equipment needs, so be sure to consider each passenger's requirements.
Passengers who remain in a wheelchair often sit in the back of the vehicle to make the best use of the space in the car, so keep this in mind.
4. Check the ramp and elevator;
As with any other feature of a car, you must perform checks on the driveway and / or elevator of the vehicle. Make sure you understand how it works and what to do if it breaks.
Ideally, an elevator should have a platform of at least 70 cm by 80 cm and be accompanied by handrails on both sides. Renting a car with an accessible lift is probably more expensive than a car with a ramp, the most common method used in accessible vehicles.
5. Security system;
If the driver or other passengers remain in their wheelchair during transport, it is important to ensure that all restraints are safe. When trying on the car, practice strapping the wheelchair. Make sure it is safe when stationary before testing it. In this way you can also see how easy the system is to use, something you are likely to do regularly.
The most common way to secure a wheelchair is to use four straps mounted in the ground in caterpillars or mushrooms (small mushroom-shaped screws). Two straps at the front and two at the back. Keep in mind that six straps may be required to secure heavy wheelchairs.
6. Condition of the car;
The car must be safe for everyone in the vehicle. Ask the rental company for the history of the vehicle, if they have not already provided it to you, and check that no accident has happened. If so, ask when the incident occurred and what repair work was performed and if there are any warranties for the work. Pay attention to parts of the vehicle that may appear damaged during inspection.
After you sign documents, the vehicle is under your care and you may be liable for any breakdowns. So if you are concerned, do not continue with the rental.
7. Comfortable interior;
It is best to test the seats before deciding to drive a car to make sure everyone is comfortable. Also look for a working air conditioner, especially in hot weather.
Check each door to ensure that the windows are working correctly so that passengers can open them and that the doors are safe when closed and locked. It's also worth opening the doors to make sure they're not too heavy for you.
However, if the seats aren't as comfortable as hoped, try using pillows and cushioned headrests to make it more comfortable.
8. Conversion functions;
Some vehicles have a lower floor for wheelchairs, which in turn lowers the suspension of the car or van. Others have added a suspension to account for the extra weight of the wheelchair (s). Make sure you are aware of all the features of the vehicle and how it has been adapted for accessibility so that you can take full advantage of these opportunities to ensure a comfortable journey for everyone.
Also take into account the steepness of any ramps, as this may mean that the wheelchair user needs extra help getting in and out. If no one can help with this, look specifically for a car with a shallow ramp or elevator.
9. Fuel efficiency;
Asking how many miles to the gallon the vehicle works is a question everyone should be asking. When renting a car, you are responsible for refilling the tank to the amount it was when you first put it into service. This can get expensive, especially if you are going on long journeys.
Also consider how long you need the vehicle - this will further increase fuel costs. You should have a rough idea of ​​how many miles you want to cover so you can calculate how long you will be in the vehicle.
10. Easy to drive;
Finally, every car you take should be easy to drive. With car rental, you don't have much time to adjust to the ride of the car. Selecting a vehicle that is easy to maneuver and drive reduces the risk of an accident.
Enjoy your holiday with your rental car!
---
Other Blogs
Travel Suggestion for Disabled Adventurers
5 Useful Travel Apps for disabled people
Accessibility Features for Hotel Accommodation
10 wheelchair accessible hotels in Antalya
Daily transportation for Disabled
Top 4 Mobility Equipment to rent for your holiday
How to make cities accessible?
Best accessible hotels in Turkey!
Disabled Travelers in Turkey
Flight for wheelchair travellers