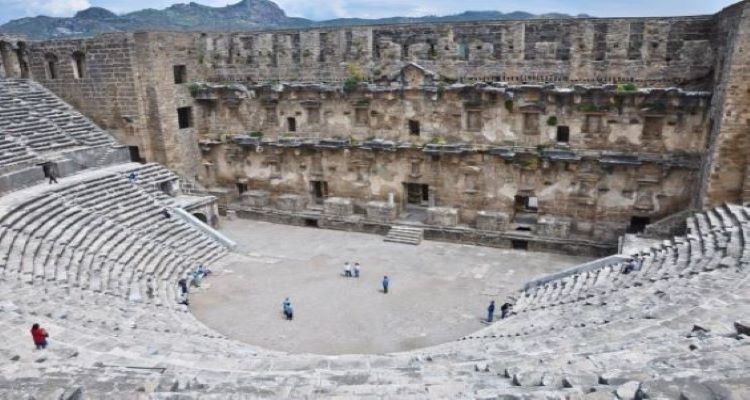 Perge, Aspendos, Antalya Museum For Disabled
Aspendos Theater is one of the most important historical buildings of the region. The most important feature of the Apendos Theater is that it has the best acoustics in the world. This theater is still used in some events. In Aspendos, which is the biggest theater of ancient times, with a spectator capacity of 15 thousand people, ballet, opera and dance shows are still organizing even today. There are also special places for wheelchair users and other disabled people to watch the shows here.
Perge Ancient City is located 15km far away from Antalya. The ancient city, built in the Hellenistic period, later remained under Roman civilization and the Seljuk sovereignty. You can visit the ancient baths, the acropolis and the agora used as a city square in Perge, which was once the capital of Pamphylia. This place is suitable for wheelchair users' visits.
Antalya Museum was awarded "The Prize of the Best Museum" by the European Council in 1988. Antalya Museum is among the leading museums in the world with its Sculpture Works from the Roman period and unique finds found during the rescue excavations of the museum. Sculptures, artifacts and coins extracted from Ancient Perge are also exhibited in Antalya Archeology Museum.
Duration: 8 hours
Tour Date : Everyday (Except Saturday)
Starting Time: 08H30 - 08H45
Suitable for which type of disability:
• Blind / Visually Impaired
• Deaf / Hearing Impaired
• Wheelchair users • Down Syndrom
• Dialysis Patients • Elderly People
Payment Type : Cash or Credit Card
Maximum Participant: 11 people
Maximum Wheelchair User : 4 people ( In the same minivan)
Places to Visit & Activities :
• Perge Ancient City • Aspendos Ancient Theatre • Antalya Museum
Included : • Hotel pickup and drop-off • Entrance fee in Perge, Aspendos and Antalya Museum • Travel insurance
Excluded: • Drinks • Lunch • Personal expenses during tour • Guiding Service
Important Informations :
• Professional Tour Guide is available in English, German, Russian, French and Arabic
• We proivide Professional Tour Guide with an additional cost. It costs 100€ per day.*** For this tour, we sugguest you to visit all these important places with a professional Tour Guide***
• If you don't prefer to have guiding service, we give you a map describing in your own language of all places visited and show on the map how to visit there.
• Wheelchair accessible toilet is available in Perge Ancient City and in Antalya Museum
• If you require, we can provide all type of walkers, scooters, electric or manuel wheelchair with an additional cost to support you on your visit.
• Our helper staffs are available to accompany and support during your tour with an additional cost (20€ pp).
• Free cancellation up to 24 hours in advance
• This tour takes 8 hours in total. If you decide to visit more then 8 hours, you will be charged 10€ extra for every additional hour.
• The Lunch is not included the price. If you want to have a lunch, it costs 10€ per person (Meat or Chicken Menu)
Price :
• From Kundu- Lara Hotels : 110€ Transfer + 40€ per person
• From Belek Hotels : 120€ Transfer + 40€ per person
• From Kemer Hotels: 150€ Transfer + 40€ per person
• From Side Hotels: 130€ Transfer + 40€ per person
• From Alanya Hotels: 170€ Transfer + 40€ per person
••• Transfer fee varies according to the distance of your hotel to Antalya city center •••
••• The tour will be performed with a wheelchair accessible minivan •••
---
Back to your request as soon as possible
Other Daily Tours for Disabled