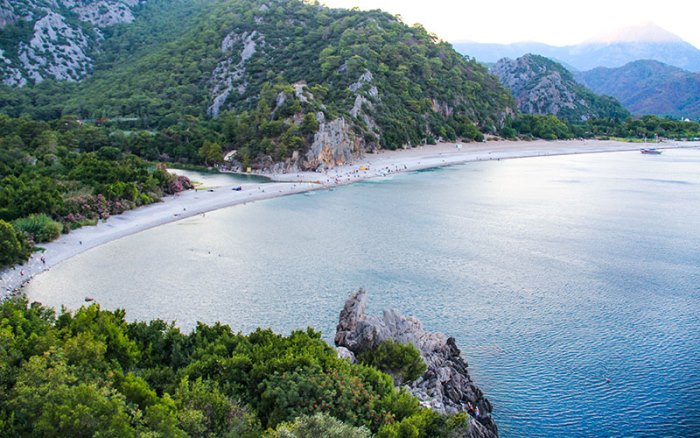 Phaselis & Ulupinar & Olympos for Disabled
How about spending a day in 2 unique ancient cities famous with its beaches? Phaselis and Olympos ancient cities are waiting for you and now it is wheelchar accessible. You will visit ancient cities and see the ruins of Lycian and Pamphylian civilizations and then you will enjoy at the beaches where you will never wish to leave. With our tour programme you and your family will have a great day with full of memories. For the guests who stay in Lara, Kundu, Belek, Side and Alanya Hotels, we will arrange a nice sightseeing tour with vehicle and you will experience the beauties of Kaleici, Düden Waterfall and Konyaalti Beach
Duration: 8 hours
Tour Date : Everyday (Except Saturday)
Starting Time: 08H30 - 08H45
Suitable for which type of disability:
• Blind / Visually Impaired
• Deaf / Hearing Impaired
• Wheelchair users • Down Syndrom
• Dialysis Patients • Elderly People
Payment Type : Cash or Credit Card
Maximum Participant: 11 people
Maximum Wheelchair User : 4 people ( In the same minivan)
Places to Visit & Activities :
• Phaselis Ancient City and Beach • Lunch in Ulupinar on the river • Olympos Ancient City and Beach • Antalya Sightseeing Tour ( Konyaalti- Kaleici -Duden Waterfall ) for the guests who stay in Lara, Kundu, Belek, Side and Alanya Hotels.

Included : • Hotel pickup and drop-off • Entrance fee to Phaselis and Olympos • Lunch in Ulupinar (Meat, Fish or Chicken Menu) • Travel insurance • Beach Wheelchair to use on the beaches
Excluded: • Drinks • Personal expenses during tour • Guiding Service
Important Informations :
• Wheelchair accessible toilet is available on the way, in shopping malls and Ulupinar. In case of any need, we will bring our commode chair with us. You will be able to use it at any where during your tour.
• A beach wheelchair will be provided free of charge during your visit in Phaselis and Olympos
• If you require, we can provide all type of walkers, scooters, electric or manuel wheelchair with an additional cost to support you on your visit.
• Professional Tour Guide is available in English, German, Russian, French and Arabic
• We proivide Professional Tour Guide with an additional cost. It costs 100€ per day
• If you don't prefer to have guiding service, we give you a map describing in your own language of all places visited and show on the map how to visit there
• Our helper staffs are available to accompany and support during your tour with an additional cost (20€ pp).
• Free cancellation up to 24 hours in advance
• This tour takes 8 hours in total. If you decide to visit more then 8 hours, you will be charged 10€ extra for every additional hour.
Price :
• From Kundu- Lara Hotels : 130€ Transfer + 40€ per person
• From Belek Hotels : 160€ Transfer + 40€ per person
• From Kemer Hotels: 110€ Transfer + 40€ per person
• From Side Hotels: 170€ Transfer + 40€ per person
• From Alanya Hotels: 230€ Transfer + 40€ per person
••• Transfer fee varies according to the distance of your hotel to Kemer and Olympos City •••
••• The tour will be performed with a wheelchair accessible minivan •••
---
Back to your request as soon as possible
Other Daily Tours for Disabled